Sedation Dentistry – Mesquite, TX
Helping You Conquer Your Dental Anxiety
Every year, up to 15% of Americans skip important dental appointments because of anxiety or fear. Sometimes it's a matter of being worried about potential pain while others simply suffer from dental phobia. No matter what your situation is, Dr. Walia and the Dental Impressions team will understand and help you find a way to relax in the dental chair while we heal and enhance your grin. The next time you call our dental office for an appointment, don't forget to ask about sedation dentistry in Mesquite, TX.
Why Choose Dental Impressions for Sedation Dentistry?
Down-to-Earth
Dentists
Team That Cares About Connecting to Patients
Different Levels of Sedation for Each Case
Oral Conscious Sedation
As you might expect from the name, this particular type of sedative is taken orally. You'll be given a pill ahead of time, and we'll set a time for you to swallow it before your appointment. Once the effects kick in, you'll still be conscious, but you'll also be in an incredibly relaxed state and will not be aware of what is going on around you. (For this reason, an adult that you trust will need to drive you to and from your appointment.) Oral conscious sedation offers a deeper level of relaxation than nitrous oxide sedation, and you likely won't remember anything about your appointment afterwards. Read on to learn more about oral conscious sedation in Mesquite.
What Is Oral Conscious Sedation?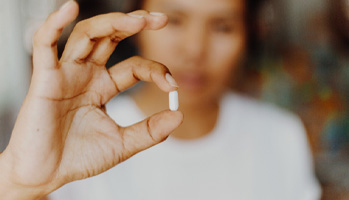 Oral conscious sedation is more powerful than nitrous oxide, but gentler than IV dental sedation. If you're a good candidate for this mid-level type of dental sedation, we'll prescribe a specific does of medication for you to take ahead of your appointment. Unlike other types of dental sedation, this type of sedative will take effect gradually. By the time you reach our office for your appointment, you should feel fully relaxed and at-ease.
How Does Oral Conscious Sedation Work?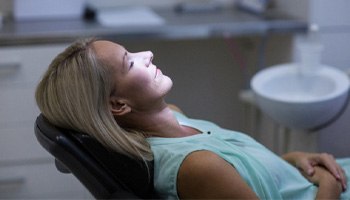 If oral conscious sedation is right for you, you'll need a trusted friend or family member to drive you to and from your appointment. When you arrive, we'll settle you into the examination chair. You will likely feel groggy, and many patients report a heavy feeling in their extremities. Nonetheless, you'll remain conscious enough to answer simple questions and follow basic instructions. You'll be completely oblivious to the sensations that would typically cause you anxiety or discomfort, and you may even temporarily drift off to sleep! We will closely monitor your heart rate and breathing throughout your appointment to ensure you are as safe and comfortable as possible.
In most cases, oral conscious sedation allows us to complete our treatments faster. You will still feel quite sedated by the end of your appointment, which is why you will need someone to take you home. Thanks to the amnesiac effects of the medication, you likely won't remember much about your time in the chair, and the sedation effects will slowly wear off by the end of the day or the following morning.
Are You a Good Candidate for Oral Conscious Sedation?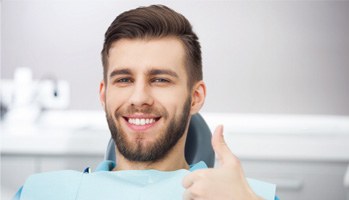 The only way to know for sure if oral conscious sedation is right for you is to come see us for a consultation. We'll review your medical history and current health to see if this option is the best choice for your unique situation. Oftentimes, oral conscious sedation is a good choice for patients who:
Have moderate dental anxiety or fear
Tend to cancel upcoming appointments out of anxiety
Have an overreactive gag reflex or very sensitive teeth
Don't typically respond to numbing medication well
Will be completing several treatments in one appointment
Will be undergoing a complex procedure
We want to help make your dental care as relaxing as possible. If you are interested in discovering if oral conscious sedation is the right choice for you, we encourage you to give us a call!
Nitrous Oxide Sedation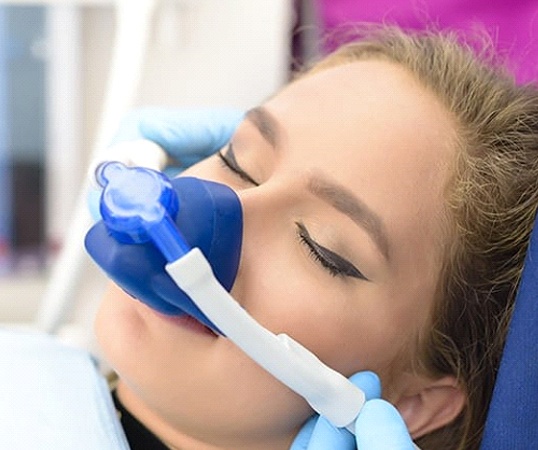 Patients who only need something light to "take the edge off" for their dental treatments may benefit from nitrous oxide. This form of sedation is ideal for patients with mild levels of dental anxiety. It's also incredibly popular, primarily because it's the only dental sedative that wears off quickly enough for patients to drive themselves back to work or home within minutes of completing their treatments. Reach out to our friendly team if you have any questions or concerns, but for now, read on to learn more about nitrous oxide in Mesquite, TX.
Who Is a Good Candidate for Nitrous Oxide?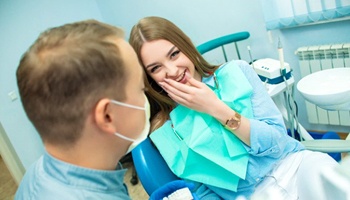 If you get mildly or moderately nervous, anxious, or afraid at the idea of getting dental work done, then nitrous oxide may be a great solution for you. It can also benefit children who are particularly uncooperative, have certain physical or mental special needs, or are simply still getting used to being in the dental chair.
In general, good candidates for nitrous oxide have one or more of the following:
Sensitive teeth or gums
A strong gag reflex
Neck, back, or jaw pain
Difficulty laying still or holding your mouth open for a prolonged period of time
Although nitrous oxide is quite versatile, some medical conditions might prevent it from being an ideal solution. These include pregnancy, glaucoma, high blood pressure, and sleep apnea. Before recommending nitrous oxide, your sedation dentist in Mesquite will review your medical history to verify that it's a safe, effective option for you.
How Does Nitrous Oxide Work?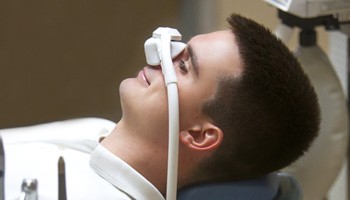 There's a reason why nitrous oxide is also called "laughing gas;" it produces feelings of lightness and euphoria, and you may get the giggles. This sedative is given through a small mask that is placed over your nose. You'll simply breathe as you normally would, and the colorless, odorless gas will begin helping you feel relaxed almost immediately.
As we administer your treatment, you should feel incredibly calm and at-ease. You won't be put to sleep, but your memory of the procedure will probably be fuzzy afterward, making it seem as if no time has passed at all.
Aftercare for Nitrous Oxide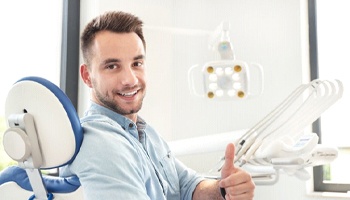 Perhaps the best benefit of nitrous oxide is that it doesn't come with any long-lasting side effects. As soon as we take the mask off of your nose and you resume breathing regular air, the sedative's effects will start wearing off just as quickly as they arose. Our team may request that you stay with us for a few minutes to be sure that you're safe. Depending on the treatment we perform, we'll also provide you with aftercare instructions for you to follow at home. At that point, though, you should be ready to drive yourself back to your regularly scheduled day!
IV Sedation Dentistry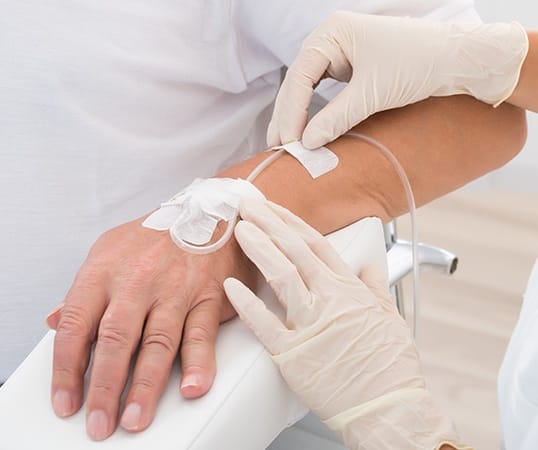 Sometimes called "twilight dentistry", IV sedation is typically reserved for complex procedures and patients who need extensive help remaining calm. We'll choose a vein on your hand or arm, then deliver the sedative through a needle attached to an intravenous tube. You'll be awake enough to interact with our team and answer their questions; you may fall asleep, but we can wake you up easily. Plan on having someone else drive you home and look after you until the sedative wears off.
Sedation Dentistry FAQs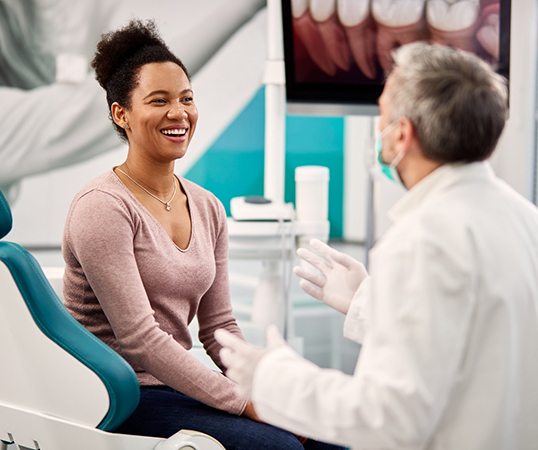 You should feel comfortable and safe when seeking treatment to preserve your smile. If you feel nervous or anxious about your dental procedure, then you'll likely benefit from sedation dentistry. While you can be sure to enjoy several advantages with this treatment, it's natural to want to know as much as you can before committing to anything. That's why our team has gathered and answered some of the most common questions we get about this service. Read along or reach out to your sedation dentist, Dr. Walia, if you wish to learn more today!
Is Nitrous Oxide Sedation Safe?
Not only is nitrous oxide the safest method of sedation dentistry, but it's also been proven to be effective for almost all patients. Thanks to modern advancements in dental technology and decades of research and tests, you can be sure to enjoy the benefits of this perfected therapy during your appointment. You'll first sit down with Dr. Walia to discuss your health and medical history to determine if nitrous oxide is the best option for you. She'll also be happy to answer any questions you have before starting your sedation treatment.
Does Nitrous Oxide Make You Tell Secrets?
Some misconceptions say nitrous oxide or "laughing gas" is a kind of truth serum that'll make you spill secrets to everyone involved in your dental appointment. Fortunately, this is only a rumor, as this sedation treatment is only designed to keep you calm throughout your visit. Although you might feel relaxed and even a little silly, you won't lose your self-control. You'll be able to respond to our questions and simple commands from Dr. Walia during your procedure while keeping your secrets safe!
Will Nitrous Oxide Make Me Sick?
Many patients don't typically experience any lingering or severe side effects from nitrous oxide sedation. Some of the most common sensations afterward are headaches and nausea, particularly in children. Even so, these symptoms are usually minor, temporary, and easy to manage. If you are concerned about feeling ill from nitrous oxide sedation, feel free to inform us so that we can make any necessary changes to help you. We'll also recommend that you fast or avoid eating for an hour or two prior to your visit to lower the risk of feeling nauseous or unwell from the treatment.
Will I Be Able to Feel Pain with Sedation Dentistry?
While sedation dentistry isn't designed to alleviate discomfort like a local anesthetic, you should feel more relaxed and comfortable throughout your dental procedure. You'll also feel calmer depending on which treatment option you choose, as IV sedation will be more potent than nitrous oxide. Be sure to let us know exactly how you feel before we start any work, as this can help us determine which method will be best for you during your appointment. For more complex dental procedures, like a filling, crown, or root canal, we'll likely also use a local anesthetic to numb your mouth. While you may feel mild pressure, you shouldn't feel any discomfort or anxiety as we treat your pearly whites!