December 29, 2020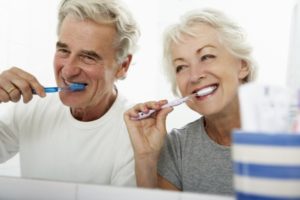 Did you know that a whopping 120 million Americans have lost at least one tooth? Of those, 36 million Americans don't have any of their natural teeth left! Fortunately, dental implants can rebuild your smile no matter how many teeth you're missing. However, in order to achieve the long-lasting results that you want, you must meet certain criteria first. If you're interested in restoring your smile but aren't sure if this treatment is right for you, continue reading to learn five qualities of the ideal candidate for dental implants in Mesquite.
1. A Strong Jawbone
The reason why dental implants are so stable, secure, and long-lasting is their surgical placement in the jawbone. If, however, you don't have sufficient bone density, you won't be able to adequately support implants. Therefore, you may need to undergo a bone graft before your implant placement procedure.
2. Healthy Gums
Even though dental implants are cavity-proof, the gums surrounding them are still susceptible to infection. If plaque builds up in the area, then bacteria can weaken the structures supporting the implants and ultimately lead to failure. So, gum disease should be dealt with before receiving implants.
3. A Commitment to Oral Hygiene
Thanks to modern technological innovations, dental implants boast a success rate of more than 95%. Of course, this is only the case if you do your part to keep your new teeth in good shape. Luckily, caring for dental implants is fairly straightforward. Brush twice daily, floss and rinse with mouthwash at least once a day, and visit your dentist for checkups and cleanings at regular intervals.
4. No Chronic Health Conditions
Patients with certain chronic health conditions may be at a higher risk for complications during the dental implant procedure. For instance, sleep apnea or heart disease may complicate anesthesia and patients with diabetes may encounter problems while healing. In these cases, your dentist may recommend an alternative, such as dentures.
5. Abstinence from Smoking or Excessive Drinking
Smoking or chewing tobacco can severely inhibit your mouth's healing ability, as can drinking excessive amounts of alcohol. Additionally, smoking greatly increases your risk for gum disease and copious alcohol consumption can cause bone loss, both of which can lead to consequences with dental implants. Your dentist in Mesquite may suggest ways to limit these behaviors or refer you to a specialist who can provide you with guidance.
To this day, more than 3 million Americans have restored their smiles with dental implants. To become part of that statistic, ask your dentist whether you're a good candidate for this life-changing treatment!
About the Author
Dr. Sweeta Walia earned her doctorate in dentistry at Nova Southeastern University School of Dental Medicine. In addition to having 15 years of experience under her belt, Dr. Walia has also completed the Hiossen International Implant Training program and has become a master of dental implant prosthesis! If you are missing one or more teeth and are interested in rebuilding your smile, don't hesitate to visit her website or call her practice, Dental Impressions, at 972-288-3200.
Comments Off

on 5 Qualities of a Good Dental Implant Candidate
No Comments
No comments yet.
RSS feed for comments on this post.
Sorry, the comment form is closed at this time.