Tooth Extractions – Mesquite, TX
Gently Removing Teeth for Your Health
Not all teeth can be salvaged. Some are so badly decayed that root canal therapy will no longer work, and others have been broken in a way where they can't be repaired with a crown or any other type of restoration. These are situations where Dr. Walia might not have any choice but to remove a tooth to preserve the overall health and harmony of your smile. If you have a tooth that needs to go, call Dental Impressions so that we can start planning tooth extractions in Mesquite, TX to remove teeth in the gentlest, most straightforward way possible.
Why Choose Dental Impressions for Tooth Extractions?
Bridges and Other Restorations for Replacing Teeth
Down-to-Earth
Treatment
Plans
Multiple Sedation
Options for a
Smooth Extraction
Wisdom Tooth Extractions
Most of your teeth are expected to last the rest of your life (provided you always take good care of them), but wisdom teeth are by far the most likely to need to be removed. These teeth erupt relatively late, normally around the ages of 17 and 25; this means there's often not enough space for them, and they might end up becoming painfully impacted. Fortunately, an extraction can help you prevent the long-term damage that wisdom teeth could potentially cause.
Wisdom Tooth Extraction FAQs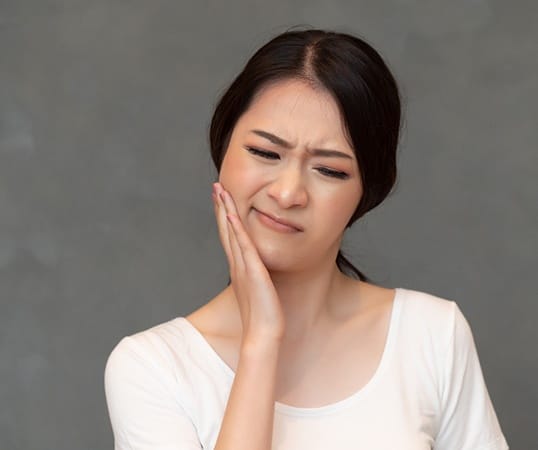 Do you still have questions about wisdom tooth removal in Mesquite? Below, we've compiled some of the most common concerns that we get from patients about this process. That way, you can feel confident and comfortable when it's time to have your wisdom teeth removed.
Why do wisdom teeth need to be removed?
Not all wisdom teeth need to be extracted. However, if you don't have enough room in your mouth or you're at a high risk of developing an infection or complications by letting them grow in, your dentist in Mesquite will suggest having them removed in order to preserve your oral health. Some additional problems that can occur due to letting wisdom teeth grow in include:
Cysts
Gum infection
Increased risk of cavities
Crowding of teeth
Do wisdom tooth extractions hurt?
Fortunately, with today's technology and advanced practices, you won't have to undergo a painful wisdom tooth extraction. For wisdom tooth removal, we'll administer a local anesthetic to completely numb the area before we begin the process. We also offer sedation as well, to help you feel more comfortable in the treatment chair. If you have any questions before your procedure, don't hesitate to contact our office and ask! Our friendly team of professionals will be more than happy to assist you.
How long does it take to recover from a wisdom tooth extraction?
Each patient's recovery process varies based on how many wisdom teeth were removed and whether they follow aftercare instructions properly. However, the average patient can expect to feel back to normal within one to two weeks. Here are some tips to make a speedy and pain-free recovery:
Ice your jaw if your notice swelling or pain.
Take all prescribed medications as directed.
Avoid eating solid foods for as long as directed.
Don't drink from a straw.
Quit smoking until you've completely healed.
What does it mean if my wisdom teeth are impacted?
Impacted wisdom teeth are a common problem, and they result in a more complex extraction process. If we tell you that your wisdom teeth are extracted, it means that they're stuck below your gumline and are growing in at an angle, or sideways. In order to remove them, we'll need to make a small incision in your gums and separate them into smaller, easier-to-remove pieces.
How do I know if my wisdom teeth are coming in?
During your semi-annual checkups and cleanings, we'll take digital X-rays of your mouth to see whether your wisdom teeth are coming in and to make sure that there are no other problems lingering beneath the surface. We'll let you know if we feel as though they need to be removed. Some patients also report feeling pain and tenderness in the jaw or swelling around the gums towards the back of your mouth.
How much will it cost to have my wisdom teeth removed?
If your wisdom tooth removal is considered medically necessary, your health insurance may cover the cost. At Dental Impressions, we're also offering a special promotion for an $1,800 wisdom tooth extraction!