Invisalign – Mesquite, TX
A Metal-Free Path Towards a Straighter Smile
Don't like what you see every time you smile in the mirror? You're not alone. Millions of Americans are unhappy with their teeth, and in many cases, it's because they're crooked or misaligned. Fortunately, you no longer have to deal with metal wires and brackets to get the straight grin you've always wanted. With Invisalign, you can discreetly and comfortably move your teeth into proper alignment. If you'd like to find out whether or not this solution is right for you, continue reading or give our office a call today!
Why Choose Dental Impressions for Invisalign?
State-of-the-Art Dental Technology
Fully Personalized Orthodontic Treatment
Affordable In-House Savings Plan Available
How Invisalign Works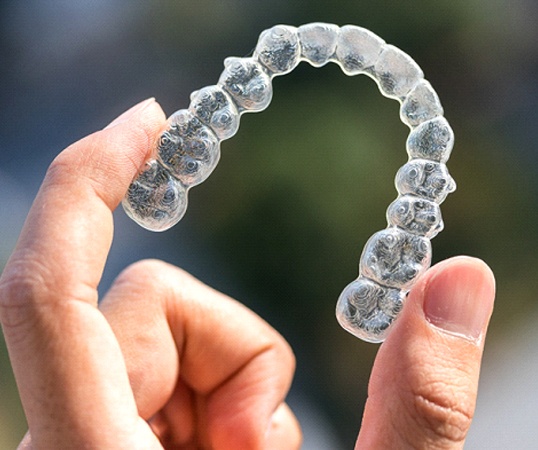 Invisalign is a modern orthodontic treatment that uses a series of clear plastic aligners to move your teeth into a straighter position. Each set of trays is worn for a predetermined amount of time, usually about two weeks. They gradually shift a portion of your smile until the entire thing is properly aligned. One significant advantage of Invisalign is that you don't need to visit Dr. Walia as often as you would with traditional braces. You simply have to see her every six weeks or so to pick up your new aligners and ensure everything is going according to plan.
Indications for Invisalign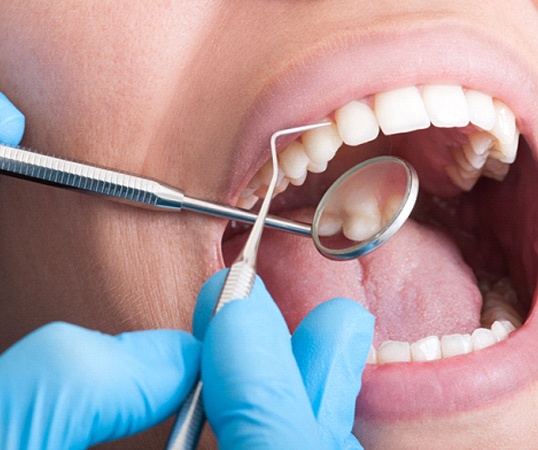 The clear aligners can correct multiple orthodontic problems, including:
Crowded Teeth
Do you feel like you have too many teeth in your mouth? If so, you may benefit from Invisalign. The plastic trays can gradually move different parts of your smile at a time until the entire thing is straightened. It's crucial to fix crowded teeth as soon as possible because it can increase your risk of decay and gum disease.
Gaps Between Teeth
Having gaps between your teeth doesn't just affect your appearance – it has an impact on your oral health as well. Since food particles can more easily get trapped in these spaces, they increase your chances of developing cavities, decay, and gum disease. Invisalign can gently move your teeth into a healthier position, reducing your risk of these issues.
Bite Alignment
A misaligned bite can place unnecessary pressure on your temporomandibular joint, causing problems like TMJ disorder as well as teeth grinding and clenching. Fortunately, the clear aligners can correct underbites, overbites, crossbites, and open bites.
The Benefits of Invisalign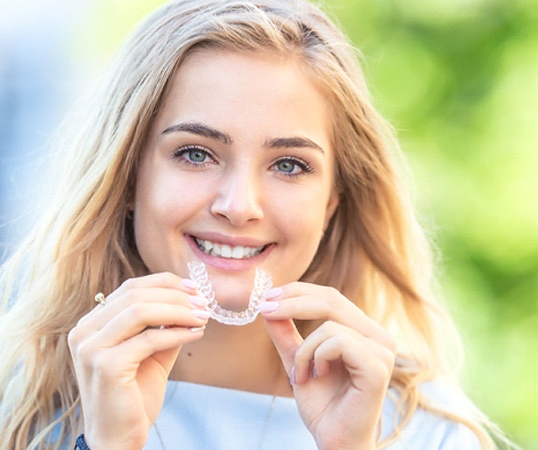 Choosing to undergo Invisalign treatment allows you to enjoy several benefits, including:
Safety and Comfort – The clear aligners are made of a smooth plastic design, making them one of the most comfortable orthodontic options available. They won't irritate your soft oral tissues in the same way traditional metal braces can.
Efficiency – Metal braces usually take about two to three years to align your teeth, while Invisalign can take about 12 to 18 months.
Discreetness – Invisalign is virtually invisible, meaning hardly anyone will notice you're wearing orthodontic treatment!
How Much Does Invisalign Cost?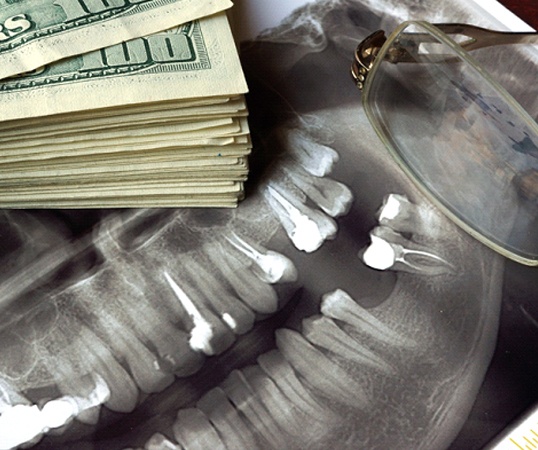 Since every case is unique, it's basically impossible to give an accurate cost estimate of Invisalign in Mesquite. There are many factors that affect the overall price, meaning we won't be able to provide you with an estimate until you come in for an exam. During your consultation, Dr. Walia will assess the extent of your dental misalignment to find out how much you'll be expected to pay.