January 28, 2021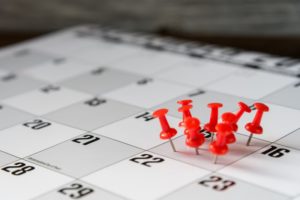 Your life is likely busy, and like most other people, you probably have a list of priorities. Getting the kids started with school, making sure you're ready for work on time, and keeping up with weekend activities might be just a few on the agenda, but have you considered adding dental checkups to that list? Dental care is easy to put on the back burner amidst the busyness of life, but it's so important because good oral health affects your overall well-being and quality of life. Your Mesquite dentist has a few tips to share on how you can make the process much easier on yourself:
How to Prepare for A Visit to Your Dentist
Scheduling a dental checkup can seem overwhelming, especially if any of your insurance information has changed, or if you've recently moved and are looking for a new practice. If you find yourself feeling bogged down by the idea of scheduling your next dental checkup, here are a few things that can help make the process less stressful:
Choose the Right Dentist
Before you do anything else, choosing the right dentist is crucial. You'll want to make sure they are someone you can trust and that their practice is a place where you feel at home and comfortable. Before committing, take the time to schedule a consultation with the dentist so that you both have a chance to get to know a bit about each other. This will aid you in your decision on where to call your dental home.
Let Your Dentist in On Your Dental History
This is something you can do during your consultation, and it's a very important part of the process. The more your dentist knows about your dental history going in, the better and more tailored treatment and advice they can provide.
Get Plenty of Rest the Night Prior to Your Appointment
A lot of people struggle with some degree of dental anxiety, and if you're seeing a brand new dentist to you, it's common to feel a bit nervous. The more sleep your brain is able to get the night before, the easier it will be to combat any feelings of uneasiness the next day.
Ask Your Dentist What You Can Do To Prepare
Your dentist has plenty of prep work to do before your appointment, but it's never a bad idea to ask them if they recommend you do anything as well. Whether that's cleaning your mouth prior to the exam, or potentially waiting to eat until afterward, it never hurts to ask!
Try To Arrive A Little Early for Your Appointment
This is especially important if you're being seen as a new patient. In fact, your dental office may even ask that you show up a few minutes prior to your appointment time in order to fill out paperwork and allow them time to connect with your insurance company. It also gives you an opportunity to sit back and relax before hopping straight into the dentist's chair.
If You Wear Any Oral Appliances, Be Sure to Bring Them
It's very helpful for your dentist to know if you wear an oral appliance, and what type it is. This can aid them in knowing how to properly examine your unique teeth. Plus, many dental offices have special, professional-grade cleaning equipment that can help polish up your retainer or night guard.
Whether it's your first or fiftieth time seeing your dentist, it's important to be emotionally and physically prepared before you go. It also makes the process easier for you and much less intimidating when it comes to scheduling your next checkup.
About the Practice
Dr. Sweeta Walia leads the team of experts at Dental Impressions in Mesquite. Nothing makes her happier than to give her patients the gifts of healthy smiles. For over fifteen years, she has been going above and beyond to provide the highest level of care possible. Years of training and continuing education have helped her to maximize her skill level and keep her practice up to date with all of the newest technologies. Are you ready to schedule your next dental checkup? Request an appointment online or call (972) 288-3200.
Comments Off

on Don't Forget Your Dental Checkup This Year!
No Comments
No comments yet.
RSS feed for comments on this post.
Sorry, the comment form is closed at this time.