March 23, 2021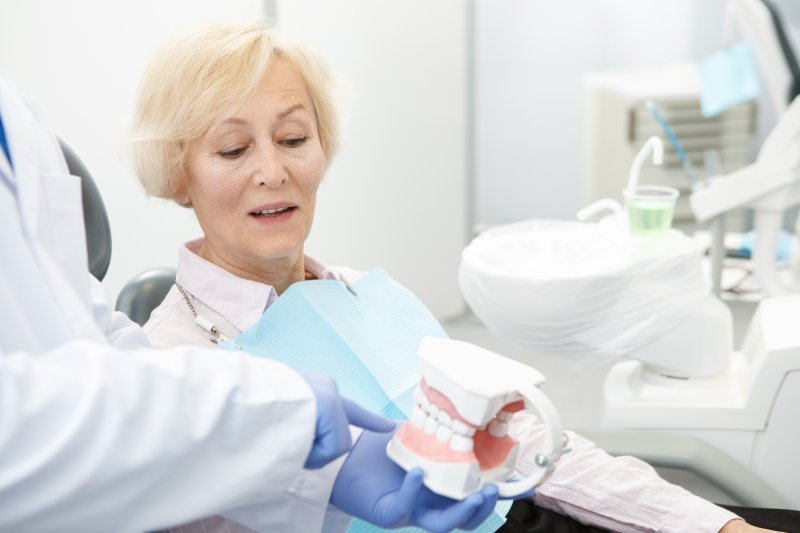 The older you get, the more likely you are to see gaps and empty space in your smile. Sadly, complete tooth loss is not as rare as you may like to think; it's estimated by the American College of Prosthodontists that as many as 30 percent of adults between the ages of 65 and 74 have no natural teeth. As such, when the time comes for you to get teeth replaced, you should be aware of the benefits and limitations of traditional dentures and dental implants. In particular, it's important to be aware of the risks of bone loss and which restorations can be used for jawbone preservation.
Why Do Missing Teeth Cause Bone Loss?
Think of your jawbone like a muscle. When it's being used on a regular basis, the body makes sure it's well-maintained, but if it's thought to no longer be needed, it will start to break down. Whenever you bite and chew your food, the jawbone receives stimulation. No teeth means no stimulation, and that can very quickly lead to a loss of bone tissue and density.
Can Dentures Stop Bone Loss?
The short answer is no, simply due to the way that dentures in Mesquite work. The restoration will sit directly on the gums and will be held in place with natural suction or an adhesive. This is enough to let you smile confidently and eat a healthy variety of foods, but it won't do anything to prevent bone loss because your new teeth will not directly interact with the jawbone. In fact, there's evidence to suggest that dentures might contribute to the breakdown of the jawbone by restricting the flow of blood in the gums and inhibiting the delivery of important nutrients.
Are Dental Implants a Better Option?
When it comes to stopping or reversing bone loss, there are no other choices; dental implants are the only way to make sure that your jaw continues getting the stimulation it needs. The implant posts integrate with the jawbone and perform all the previous functions of tooth roots, which helps keep the jaw healthy in the long term. This is in addition to various other benefits, such as:
False teeth that don't slip when you're trying to talk or chew.
Improved stability and chewing power compared to natural teeth.
A longer lifespan that can last for many decades.
Both dentures and dental implants have their advantages and disadvantages when it comes to rebuilding smiles, but if part of your goal is to maintain a healthy jawbone, then implants are the best option. Your dentist in Mesquite can explain the processes for dentures and dental implants during a consultation and help you decide which is best for you.
About the Author
Dr. Sweeta Walia has spent over 15 years helping patients protect, improve, and repair their smiles with dentistry. She has completed the Hiossen International Implant Training program and as a result has become an expert in placing and restoring implants. If you've been thinking of getting dental implants or dentures, you can get in touch with Dr. Walia at Dental Impressions through her website or by calling (972) 288-3200.
Comments Off

on Dentures Vs Implants: Can Dentures Stop Bone Loss?
No Comments
No comments yet.
RSS feed for comments on this post.
Sorry, the comment form is closed at this time.