August 2, 2021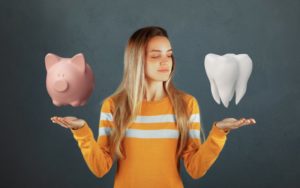 Since you retired, you've been watching your spending and tried to save money where you can. After all, you're on a fixed income now! Then, your dentist highly recommends getting dental implants to replace your missing teeth, but don't they cost significantly more than traditional dentures? Are dental implants really worth the extra upfront cost? Although they come with a higher price tag initially, the benefits of dental implants well outweigh the cost! Read on to learn three ways that this treatment makes up for the price.
Fewer Replacements
If you've worn dentures for a while, you're probably already familiar with the frustrations that come along with these replacements. Not only do you have an adjustment period to get use to how dentures feel, but you also have to go in frequently to have your dentures slightly changed to fit properly. Then, about every five years, your dentures need to be replaced entirely because your jawbone is constantly changing shape and losing density.
Fortunately, with dental implants, your replacement teeth are much more durable and lasting. Because they keep the jawbone strong and stimulated, it retains its shape. As a result, your restorations continue to fit for a long, long time. In fact, dental implants allow you to keep your restorations for 20 years or even more, likely saving you significantly on replacements costs.
Minimal Maintenance
When you first lost your teeth, you may have thought your days of caring for your teeth were behind you. However, your mouth can still become infected with gum disease or other problems. If you wear regular dentures, you must take them out and get rid of food debris and plaque daily. In fact, they need to soak while you sleep. You also need to clean your mouth and remove bacteria, even if you don't have natural teeth remaining.
In contrast, caring for dental implants is pretty straightforward. You do exactly what you should do for real teeth. Daily brushing and flossing, as well as regular checkups with your dentist, are enough to make sure your smile stays infection free.
Healthier Diet, Healthier Body
Although you can eat healthy foods with traditional dentures, you have to make a lot of changes to your eating habits. Instead of eating fresh vegetables like carrots, apples, and broccoli, you must first cook these foods to be much softer and easier to chew. In many cases, patients simply avoid these foods altogether and choose to eat more processed, carb-filled meal options. If you go this route, you don't provide the right fuel for your body to run optimally. As a result, you increase your risk of many expensive medical problems that could not only shorten your lifespan but lower your quality of life.
The good news is that dental implants makes maintaining a healthy diet much simpler. Restoring up to 70 percent of your original biting force, implants enable you to chew and eat basically any food you could before tooth loss. This gives your body proper nutrition and empowers you to live a healthier lifestyle.
In the end, if you take a more long-term view, you can see that implants can be the smarter investment of your limited funds. You could spend less over time and enjoy the many benefits that accompany this treatment.
About the Author
With more than 15 years of experience in the field so far, Dr. Sweeta Walia has developed expertise in dental implants. During her career, she has completed the Hiossen International Implant Training program and become a master of implant prosthesis. If you would like to learn more about how dental implants could change your life for the better, you can schedule an appointment with Dr. Walia at Dental Impressions in Mesquite through her website or by calling 972-288-3200.
Comments Off

on 3 Ways Dental Implants Make Up for the Cost
No Comments
No comments yet.
RSS feed for comments on this post.
Sorry, the comment form is closed at this time.