August 4, 2022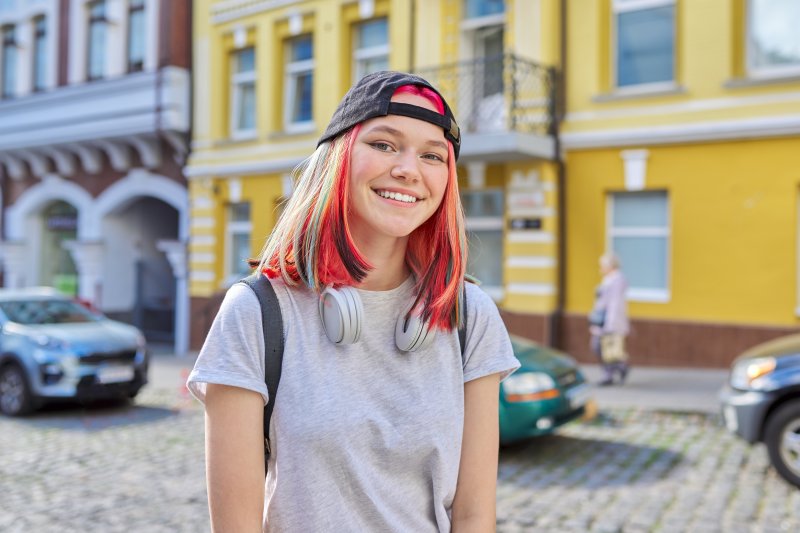 Once your child reaches their teenage years, there is a good chance that they will undergo orthodontic treatment to fix misalignment issues. While it may not be their favorite time, the results are worth it. Now that your teen is heading back to school, navigating the day with their new Invisalign aligners may be more challenging. Here are a few tips to help them stay on track with their Invisalign treatment.
Pack a Toothbrush
One of the awesome things about Invisalign is that your teen doesn't have to cut out any of their favorite foods and beverages to have a successful treatment. Invisalign aligners are removable so they can have pretty much anything they want for lunch. However, it's important that they take the time to thoroughly brush and floss their teeth before putting their aligners back in. Be sure that they are bringing a toothbrush, toothpaste, and floss so no lingering food particles get stuck in their trays and cause decay.
Keep Aligners Safe
When your teen needs to take out their aligners for lunch, when having a snack, and when playing a sport, it is important that they put them in a safe place so that they don't get lost. Losing Invisalign aligners can throw off their treatment plan and ultimately prolong it. No one wants to wait longer to see their final results. Ensure that your teen is taking their Invisalign case to school so they can safely store it. This way, it will be much less likely that they'll accidentally misplace their aligners.
Dealing with Discomfort
No orthodontic treatment is completely free from discomfort. While Invisalign doesn't hurt, it does cause the teeth to shift around which can ultimately cause some soreness. This is especially the case after your teen puts in a new set of aligners. To reduce this, have your child change to their new trays right before bedtime. This way, they will be sleeping while their smile is having to adjust the most. Dental wax can help to cover any rough edges that are irritating their mouth. No teen wants to be dealing with discomfort when they are trying to focus on their schoolwork.
Navigating school with Invisalign can be a challenge, but with the tips listed above, it should be a breeze. Your teen will be showing off their gorgeous, aligned smile in no time!
About the Author
Dr. Sweeta Walia is an experienced dentist who has been working in the field for over 15 years. She earned her dental doctorate from the Nova Southeastern University School of Dental Medicine. She is certified in both orthodontics and Lumineers, a VIP Provider of ClearCorrect, and a Platinum Provider of Invisalign. To learn more about Invisalign or to schedule an appointment at her office in Mesquite, visit her website or call (972) 288-3200.
Comments Off

on 3 Back-to-School Tips for Your Teen with Invisalign
No Comments
No comments yet.
RSS feed for comments on this post.
Sorry, the comment form is closed at this time.