September 7, 2022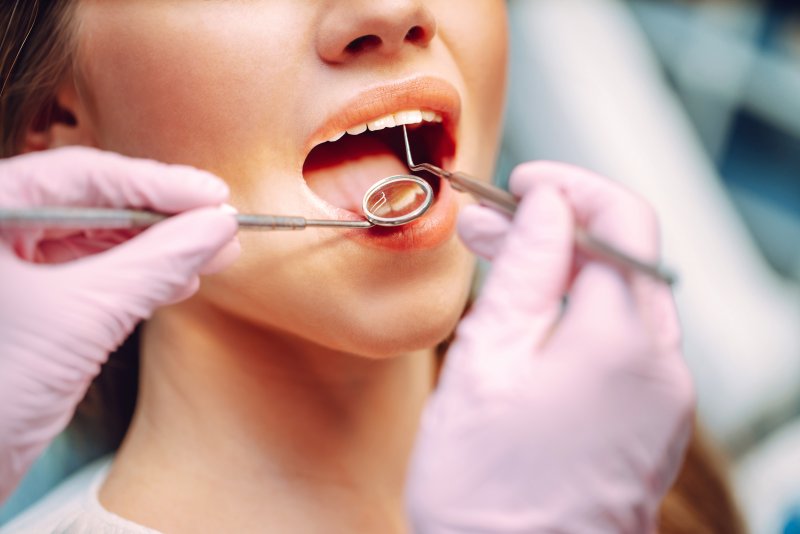 Did you know that roughly 91% of Americans over the age of 20 have struggled with a cavity before? Some of the most common signs of tooth decay involve tiny pits or pigmented discoloration. But how do you know if there are cavities between your teeth? If this condition (also known as an interproximal cavity) is left untreated, it can result in various complications, like chronic bad breath and difficulty chewing. Read on to learn how you can tell if you have this issue and five prevention tips to keep it at bay!
How to Know If You Have Cavities Between Your Teeth
Interproximal cavities don't usually have visible signs, meaning you might notice them only when they've already advanced. However, there are a couple of ways you can tell if you have this condition. The first indication is new tooth sensitivity, which can happen when decay penetrates your enamel and reaches the inner tissue (dentin). If you notice any pain when consuming hot and cold meals or beverages, you might want to consider visiting your dentist for a checkup. The second method to know if you have interproximal cavities is by attending your biannual dental visits. Your dentist can take X-rays which can reveal hidden pits that you wouldn't have noticed otherwise.
Reliable Treatments for Interproximal Cavities
Should your dental team find one or several cavities between your pearly whites, they'll develop a personalized treatment plan to help you regain a strong and healthy smile. Depending on the complexity of your condition, your dentist may suggest getting a filling, dental crown, root canal, or extraction. Whatever your situation might be, you can be sure that your team will do everything they can to keep you as comfortable as possible while they work to preserve your pearly whites!
5 Prevention Tips to Keep Your Smile Cavity-Free
When it comes to maintaining your teeth and gums, prevention is paramount. To avoid experiencing interproximal cavities, you'll want to consider practicing the following measures:
Floss between your teeth before bedtime or after every meal.
Brush your teeth for two minutes in the morning and evening.
Avoid overindulging in sugary treats, such as candy and pastries.
Refrain from bad oral habits, like smoking and drinking alcohol excessively.
Schedule visits with your dentist for checkups and cleanings twice a year.
If left unchecked, interproximal cavities can be detrimental to your oral health. By keeping these few tips in mind and seeing your dentist routinely, you'll be more likely to avoid any complications so that you can enjoy showing off a healthy smile!
About the Author
Dr. Sweeta Walia received her dental doctorate from the Nova Southeastern University School of Dental Medicine. She also regularly seeks continuing education to expand her techniques and expertise. She offers a wide range of comprehensive and advanced services, including dental crowns, fillings, root canals, and tooth extractions. If you'd like to set up an appointment, visit her website or call 972-288-3200.
Comments Off

on How Can I Tell If I Have Cavities Between My Teeth?
No Comments
No comments yet.
RSS feed for comments on this post.
Sorry, the comment form is closed at this time.