November 16, 2022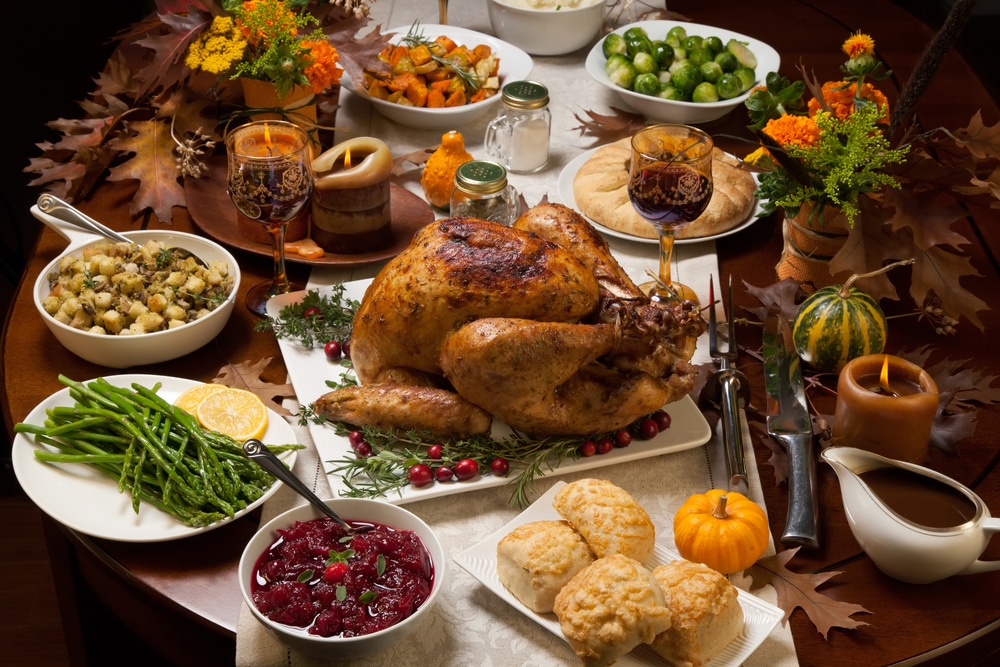 Thanksgiving signifies the start of the holiday season. This time of year can be hectic, from booking travel arrangements to buying ingredients for holiday feasts. As tasty as the seasonal treats that are common at Thanksgiving dinner are, some of them are bad for your smile. There are also certain eating habits that can put your oral health in jeopardy. Read on for some tips on how to have a healthy Thanksgiving that your dentist will approve of.
Tip #1: Limit Snacking
While certain foods are more damaging to our smiles than others, the frequency at which you eat them can also impact your smile. Frequent snacking on treats and trying out parts of your meal as you go is common during the holidays, but this can harm your pearly whites.
When we eat or drink anything other than water, the environment in our mouths becomes more acidic. Acid eats away at our enamel, which is the protective outermost layer of the tooth. This makes your smile more susceptible to decay. Snacking throughout the day means that your smile is constantly under an acid attack, so wait until mealtimes to throw down on your favorite foods.
Tip #2: Avoid Sticky Foods
Caramel, marshmallows, toffee, and other sticky foods easily get stuck to your teeth. This makes them difficult to wash away, which allows the oral bacteria that cause cavities to feed on them for longer. That's why it's best to avoid these foods and stick to ones that are easy to remove from your pearly whites, such as mashed potatoes, cooked veggies, and pasta.
Tip #3: Cut Back on Sugar and Carbs
Oral bacteria feed off sugar, so it's best to cut back on pies, cakes, and cookies during the holiday season. Starchy, carb-heavy foods can damage your smile in the same way since they break down into sugar in the mouth, so these should also only be consumed in moderation. Consider increasing your intake of lean meats and veggies so you still feel full and satisfied.
Tip #4: Be Selective with Your Drinks
Many festive holiday drinks like egg nog and punch are high in sugar, so make sure not to consume too many of them. Beverages that contain alcohol are double the trouble since alcohol is highly acidic. The same goes for soda and other sparkling beverages. Water is the best beverage to drink since it increases saliva production and washes away food particles and harmful oral bacteria.
Tip #5: Be Wary of Hard and Sharp Foods
Chips, pretzels, popcorn, nuts, and other hard or sharp foods can get caught between your teeth, stab your gums, or become lodged in your dental restorations. They may also chip your pearly whites or weaken your enamel, making your smile more susceptible to chips and cracks. If you choose to eat these potentially damaging foods, follow up by brushing and flossing to dislodge them.
During the holidays, your smile may not be the first thing on your mind. Even so, be sure to take the time to do what it takes to have a healthy Thanksgiving so your smile can continue looking lovely during the holidays and beyond!
About the Practice
The holidays are right around the corner, Dental Impressions of Mesquite is here to help you prevent them from harming your beam. Led by Dr. Sweeta Walia, they take pride in what they do and love helping their Mesquite patients achieve the beams of their dreams. They can also give you tips on having a healthy Thanksgiving so your smile remains strong and bright. Call Dental Impressions of Mesquite at (972) 288-3200 or visit their website to schedule an appointment or for more information on their services.
Comments Off

on 5 Tips for a Healthy Thanksgiving Dinner
No Comments
No comments yet.
RSS feed for comments on this post.
Sorry, the comment form is closed at this time.