January 6, 2023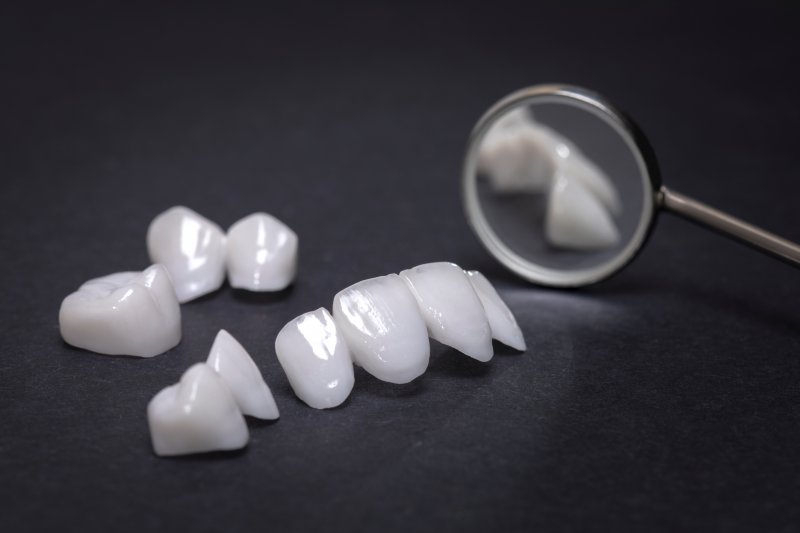 Like many people, you may think orthodontics is the only way to fix crooked teeth. You'd thus need something like Invisalign to get a straight smile. However, the truth is that porcelain veneers can also solve dental misalignment. As such, you might not know which option to choose. It's a good thing, then, that your Mesquite dentist can help. Here, then, is a summary of the difference between Invisalign and veneers, including which procedure is right for you.
What's Invisalign?
Put plainly, Invisalign is a treatment that uses clear aligners to move teeth into alignment. Its sets of trays put pressure on each tooth, shifting and straightening them over time. Given these features, the Invisalign process has perks like:
Near-Invisible Trays – Invisalign's trays are transparent, meaning they're subtle and don't draw much attention. With them, you won't have to worry about "metal mouth!"
Versatility – Invisalign can address many orthodontic issues, including gaps, crowding, and bite problems.
Easy Eating & Brushing – Because the aligners are removable, they don't interfere with meals or dental care. Once you've popped them off before eating or teeth cleaning, you're good to go.
Improved Comfort – Invisalign relies on smooth plastic, so it's pretty comfortable. Its trays don't poke or prod as brackets and wires might.
What are Veneers?
Veneers are thin, porcelain shells bonded to the fronts of teeth. Dentists use them to hide various smile flaws, including tooth misalignment.
Patients can enjoy many benefits with veneers, including:
A Transformed Smile – Veneers can do more than cover a crooked smile. As a cosmetic service, they can also whiten your teeth, hide chipped or cracked areas, and even cover tooth gaps.
Long-Lasting Results – While veneers aren't permanent, they do last long with proper care. In fact, the average one has a lifespan of up to 15 years.
Tooth Protection – Veneers cover your teeth to protect pearly whites from enamel erosion. Their porcelain material is especially durable, too, so they're more stain-resistant.
Which Option is Right for You?
When choosing between Invisalign or veneers, consider each service's ideal candidate. That way, you'll better grasp what best fits your situation.
For instance, assess Invisalign's particulars. It's a treatment suited more for adults and those who can commit to a year-long process. Furthermore, aligners are good if you're also looking to correct bite problems.
You should also look at veneer methods. They hide misalignment rather than undo it, so the shells are ideal if you're focused on cosmetics. Plus, they'd work well to cover any other smile flaws you have.
Ultimately, grasping the difference between Invisalign and veneers will help you with your choice. That said, make sure to loop your dentist into the decision-making process!
About the Practice
Dental Impressions is based in Mesquite, TX. Led by Dr. Sweeta Walia, our practice strives for comfortable and effective dental care. To that end, we perform high-quality preventive, cosmetic, and restorative treatments, as well as emergency procedures. Our office also prides itself on being a certified provider of Invisalign clear aligners! For more information or to book a visit, you can reach us on our website or by phone at (972)-288-3200.
Comments Off

on Invisalign or Veneers: Which Should You Get?
No Comments
No comments yet.
RSS feed for comments on this post.
Sorry, the comment form is closed at this time.