February 10, 2023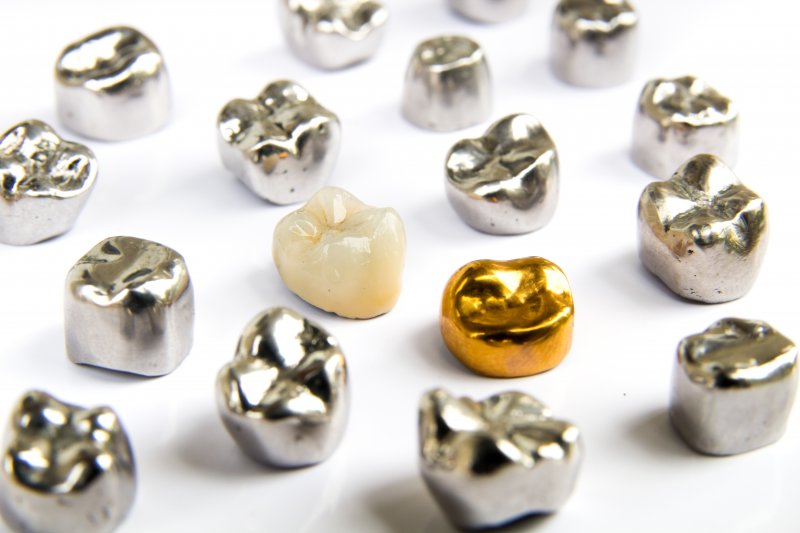 If you're of a certain age, you might have gotten a metal crown (or two) to repair damaged teeth. This type was indeed good in the past, and it's better than leaving a tooth untreated. However, modern dentists now suggest metal-free restorations are the superior option. As such, you should replace your metal prosthetic with a non-metallic alternative. To learn more, let your local Mesquite dentist explain. Here, then, is a summary of why to replace a metal crown with a non-metal variety.
They Make You Look Old
Metal crowns are an older technology, so most identify them with older people. Consequently, wearing one can convey that you're elderly or feeble. It certainly doesn't help that the metallic ones are flashy and don't blend with your smile.
In contrast, all-porcelain crowns help you look younger. They're color-matched to your tooth enamel, blending seamlessly with your other teeth.
They Have a High Risk of Decay
While metal crowns should protect your teeth, they often only conceal already-existing damage. As a result, wearers of these metal caps have a very high risk of decay. Many dentists, in fact, will find a decayed tooth hiding beneath a metal or PFM crown.
Even if you think your crown is okay, it's best to play it safe. To that end, have a dentist remove the prosthetic before any decay becomes irreversible.
They Can Make Your Teeth Sensitive
Whether you notice or not, metal crowns will likely make your teeth sensitive. In particular, a crowned tooth could react with pain to foods and drinks at extreme temperatures. The reason is that metal conducts heat, allowing hot or cold items to disturb a tooth's nerves.
Luckily, replacing the restoration with a metal-free one will fix things. You can then enjoy your favorite foods without worrying about sensitivity.
They're Not Healthy
In reality, humans aren't meant to have metal in their mouths. The material can (and does) cause all sorts of health issues. Put plainly, then, metal crowns pose a risk to your body.
You see, metal restorations don't interact well with human body parts. Nickel, for instance, can turn gums green or even cause a severe allergy. Meanwhile, mercury is toxic and thus a poison at high levels.
Admittedly, many metal crowns don't use large amounts of risky materials. Even so, the metal-free variety would give the safety-conscious more peace of mind.
Ultimately, switching your metal crown for a non-metallic type has priceless benefits. Therefore, schedule a consultation with your dentist to discuss possible replacement.
About the Practice
Dental Impressions is based in Mesquite, TX. Led by Dr. Sweeta Walia, our practice offers family dentistry for patients of all ages. To that end, we perform high-quality preventive, cosmetic, and restorative treatments tailored to your needs. Our office is also a certified provider of dental sedation and Invisalign clear aligners. For more information or to book a visit, you can reach us on our website or by phone at (972)-288-3200.
Comments Off

on Why to Replace a Metal Crown with a Metal-Free One
No Comments
No comments yet.
RSS feed for comments on this post.
Sorry, the comment form is closed at this time.