March 4, 2023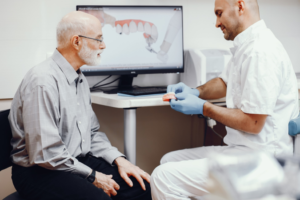 If you're familiar with dentures, you probably know that they're a tried-and-true solution when it comes to tooth replacement, and they've assisted countless patients across multiple generations with compromised smiles. That said, if you're considering getting them as a solution for your lost teeth, you might be wondering if they can be worn 24/7—after all, no one should want to endure even one moment with gaps in their grin! Here's more from your dentist about dentures and why it's important to wear them as often as intended, along with some tips for keeping them intact.
Why You Shouldn't Wear Your Dentures All Day, Every Day
Even though dentures are designed to replace your teeth and restore your oral functionality, wearing your dentures 24/7 is not advisable. There are several reasons for this, including:
Dentures can cause tissue damage when worn too often; any soft tissue that is continually covered by a denture is never exposed to air and won't remain healthy; not to mention, you'll be creating a favorable environment for bacterial growth.
Constantly wearing dentures can result in a condition called "denture stomatitis" which is characterized by inflammation and a burning sensation. It's worth noting that this chronic inflammation can weaken the body's immune system, which can increase a patient's chances of contracting something like pneumonia or another illness.
Dentures put added pressure on the gum tissue and bony ridges that support them, meaning that constant pressure from wearing dentures all day and night can accelerate bone resorption, the process that results in a gradual decrease in bone matter density.
If you're wearing your dentures 24/7, you typically won't spend as much time cleaning them as you should—which can cause problems for your oral health and dentures alike.
Tips for Keeping Your Dentures in Great Shape
If you want to keep your dentures in great shape, it's important to know how often they need to be worn and how they need to be maintained. Here are some tips to help you keep your restoration in the best possible shape:
Remove your dentures at night so that your soft gum tissues have the chance to breathe and recover from wearing your dentures throughout the day. This will greatly prevent and reduce tissue irritation and inflammation.
Clean your dentures as needed (nighttime is often the perfect opportunity to soak them) so that plaque isn't allowed to harden into tartar on the surface. Brush the surfaces of your dentures daily and soak them in their dedicated cleaning solution a few times every week.
Continue to visit your dentist so that they can ensure your restoration serves you well moving forward and that your mouth is a healthy and suitable environment for it.
In short, a denture should be worn most of the time, but certainly not all of the time as it can lead to some uncomfortable complications. That said, knowing the reasoning behind this and understanding how to make your restoration last will ensure that your smile looks and functions as intended!
About the Author
Dr. Sweeta Walia is thrilled to be able to provide an elite level of care for families in the Mesquite, TX community. Dr. Walia received her DMD from the Nova Southeastern University School of Dental Medicine and is a proud member of several professional dental organizations including the renowned American Dental Association. If you have any questions for Dr. Walia about the article or you'd like to schedule a visit, you can contact her through her practice's website or over the phone for assistance: (972) 303-8332.
Comments Off

on Can Dentures Be Worn 24/7?
No Comments
No comments yet.
RSS feed for comments on this post.
Sorry, the comment form is closed at this time.